Welcome!
I'm a physician-scientist in the Division of Gastroenterology & Hepatology and joined the University of Iowa in 2021. My gastroenterology research foci are muscle layer and mucosa of gastrointestinal tract (GI). My final goal is to develop new treatments for gastrointestinal diseases by translating our basic scientific findings to clinical studies.
Our Current Projects
The aim of this project is to understand the electrophysiological molecular mechanism of the contraction and relaxation of GI smooth muscle layers in the physiological and pathophysiological setting. GI smooth muscle layer motility are controlled by electrical dynamics, and we are investigating them using various gene-edited mice, human tissue and pig tissue.
I discovered a novel population of cells in GI subepithelial niche, which is subepithelial platelet-derived growth factor receptor α+ cells (SPAC). We are investigating the physiological and pathophysiological roles of SPAC in mouse and human colon using various gene-edited mice and mouse disease model.
To tackle these projects, we employ various approaches including the live-tissue & cell imaging with the high-speed confocal laser-point-scanning system (Nikon AX-R), organ bath contractile experiments, FACS, qPCR, morphological experiments with confocal fluorescent microscopy and transmission electron microscopy, generation of disease model mice, generation and utilization of new gene edited mice with targeted gene floxed, gene-encoded Ca2+ indicator and gene-encoded voltage indicator.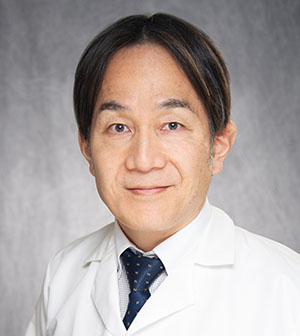 Masaaki Kurahashi, MD, PhD
Assistant Professor
Dept. of Internal Medicine
See a complete list of Dr. Kurahashi's publications at PubMed.
See Dr. Kurahashi's Google Scholar listing.